Blogger Aaron Hutcherson from The Hungry Hutch teamed up with Meiko Drew of Meiko and the Dish to host a Black History Month Virtual Potluck. In an article on Tasting Table, Hutcherson wrote, "This virtual potluck is our small part to show society that 'black food' is more than fried chicken, macaroni and cheese, and collard greens (though there's some of that too)." A number of bloggers each created one dish for the occasion, and that means that you can try something new every day. And we're totally here for the diverse cuisines featuring African, Caribbean, Southern, and Creole recipes. We're fixing you a plate so sit back and relax because you're definitely in for a delicious meal.
---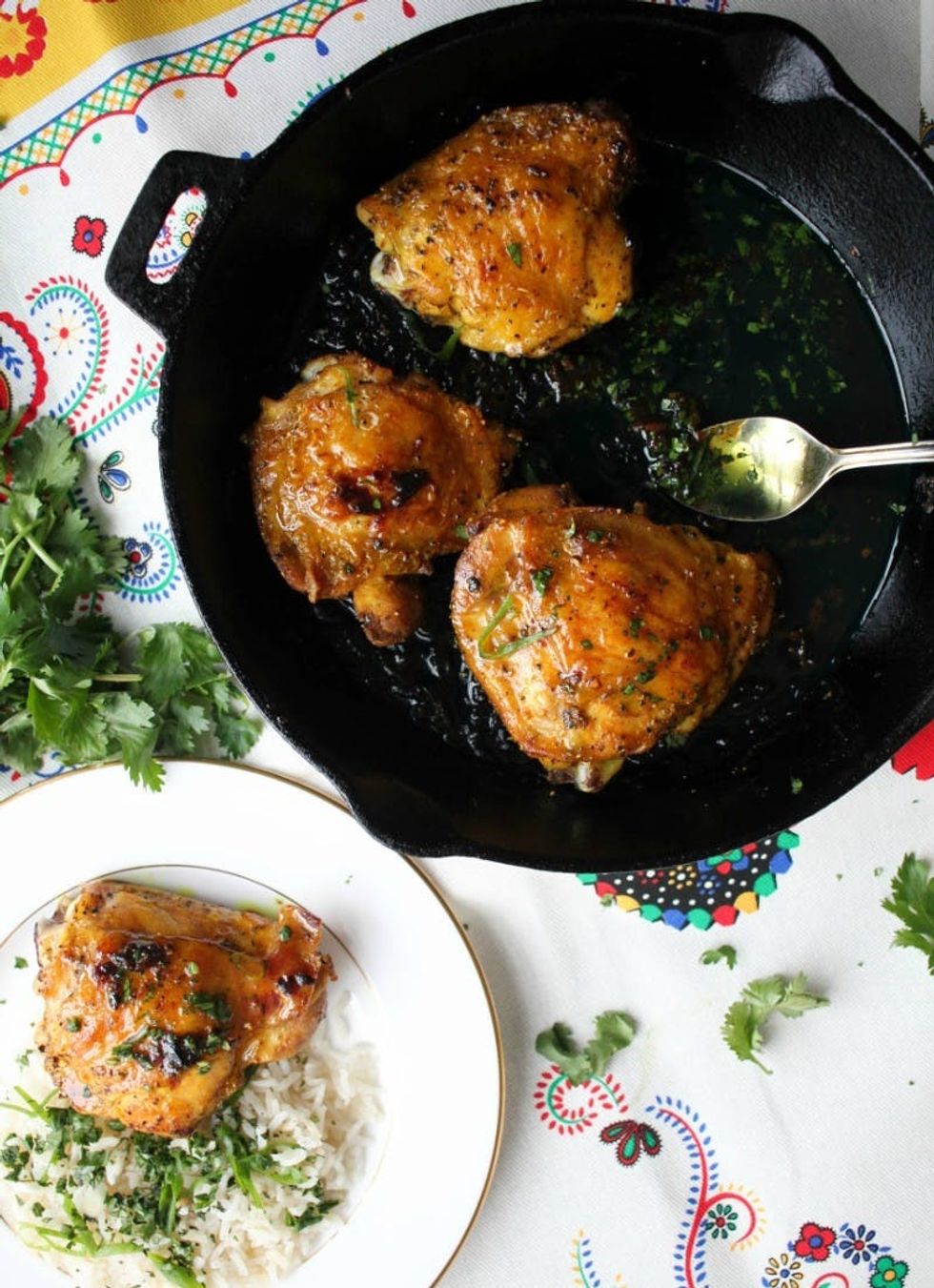 Honey Turmeric Chicken: The word "tender" does not even begin to describe just how moist these chicken thighs are. And honey and turmeric are both known for their healing health benefits so go ahead, have another piece. You have the ultimate built-in excuse. (via The Seasoning Bottle)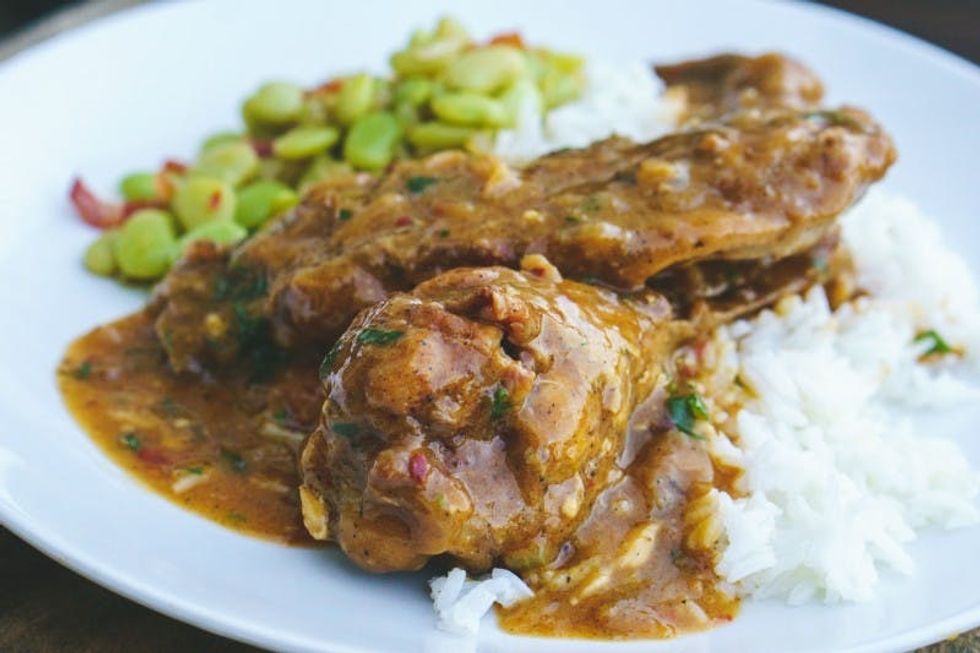 Smothered Turkey Wings: This recipe taught us that we've obviously been eating turkey wings all wrong. We can't wait to dredge the side of rice and beans into what we know is going to be a spice-filled gravy. (via The Kitchenista Diaries)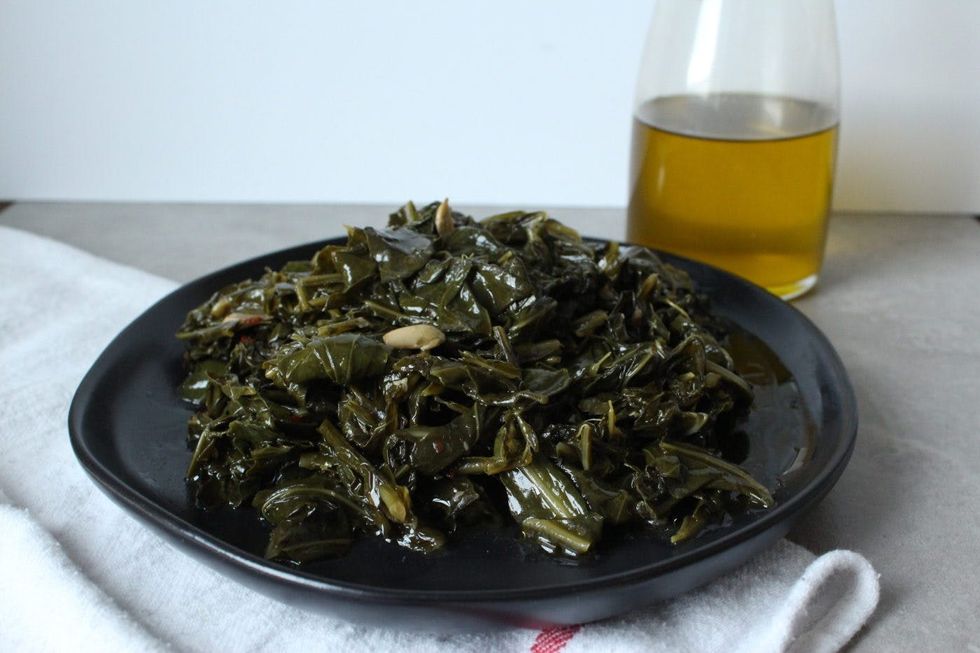 Olive-Oil-Braised Collard Greens: Honestly, it doesn't matter how collard greens are cooked, they will always have a place on our table. Braised in olive oil and seasoned just right, these collard greens have an indescribably amazing taste. (via Eat. Drink. Frolic.)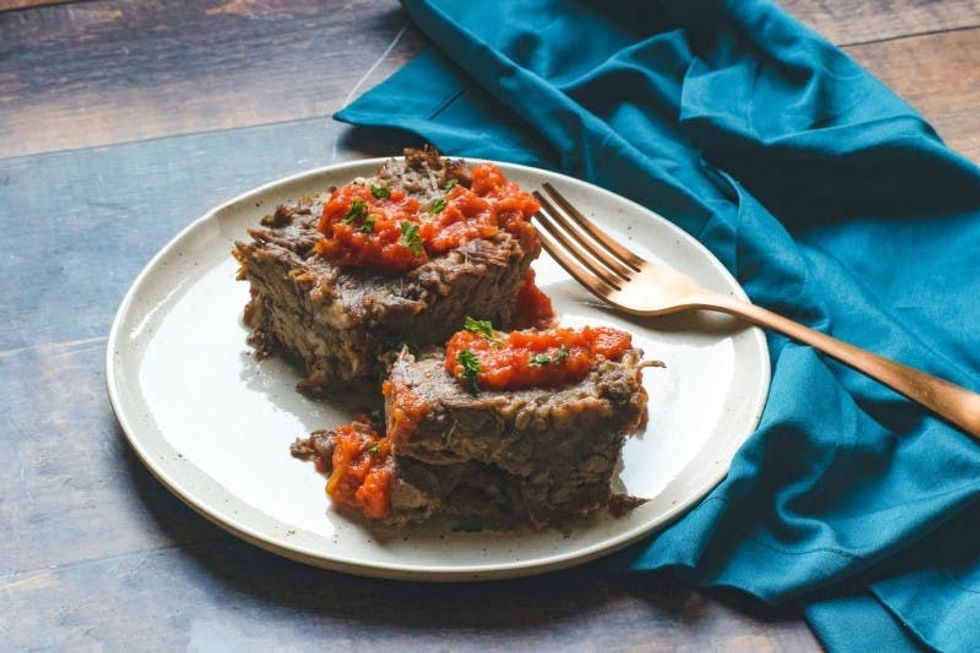 Braised Short Rib Meatloaf: If the title alone doesn't make your mouth water, we're not sure that we can be friends. We want someone to slice us up a piece with a side of garlic mashed potatoes STAT. (via Cooks With Soul)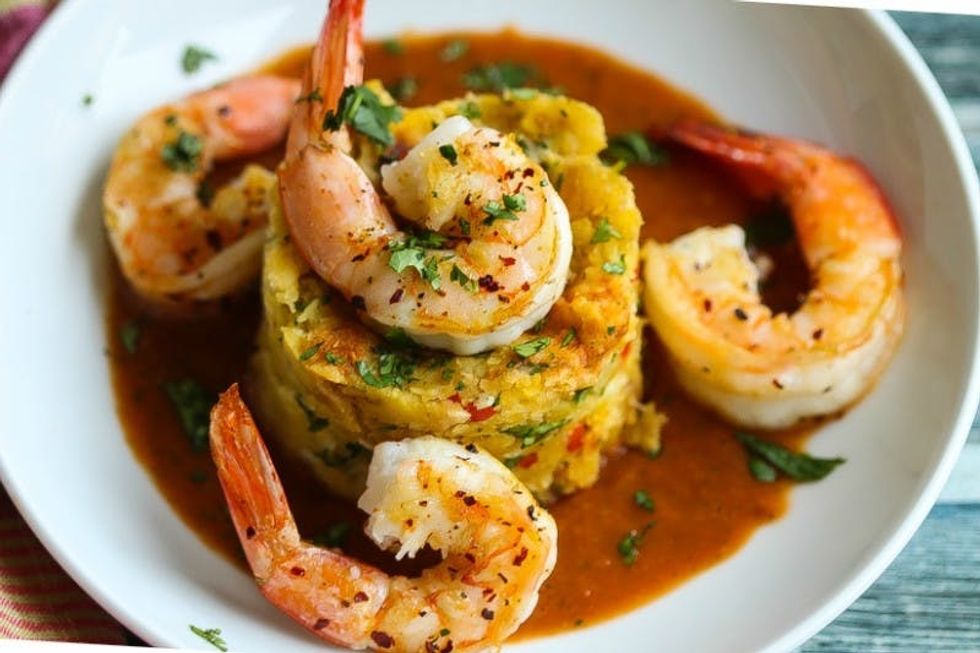 Mofongo Relleno: For a spoonful of the Caribbean, dig into this recipe that's made with smashed plantains, garlic shrimp, and a sauce that's so good, you won't be able to stop yourself from drinking it. (via Food Fidelity)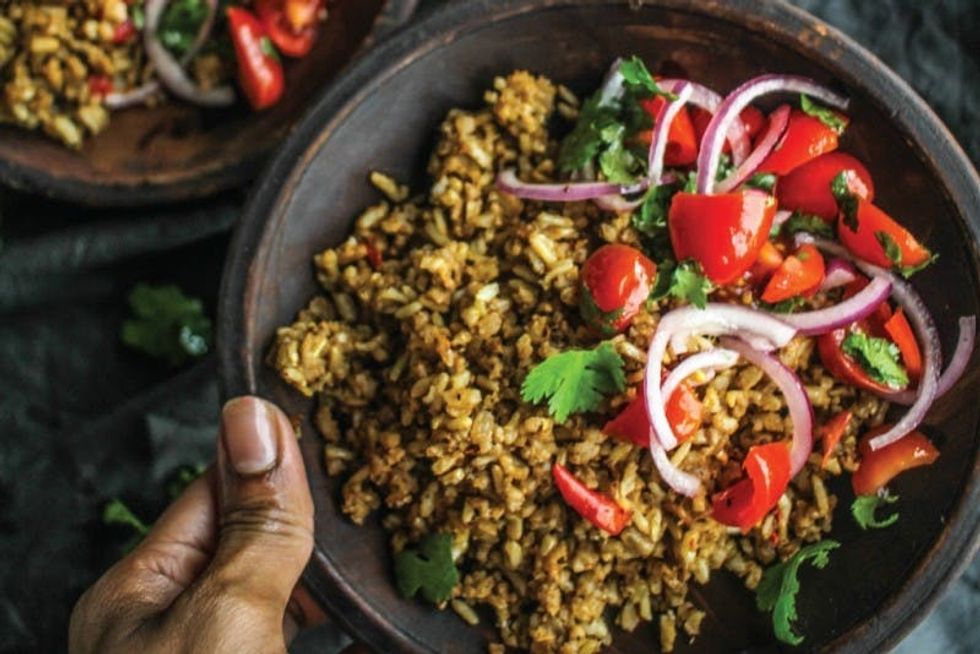 Pilau Masala: We've said it once and we'll say it again: There's nothing better than a generous serving of spiced rice. Trust us, you need to be adding pico to all of your rice dishes. (via Chocolate for Basil)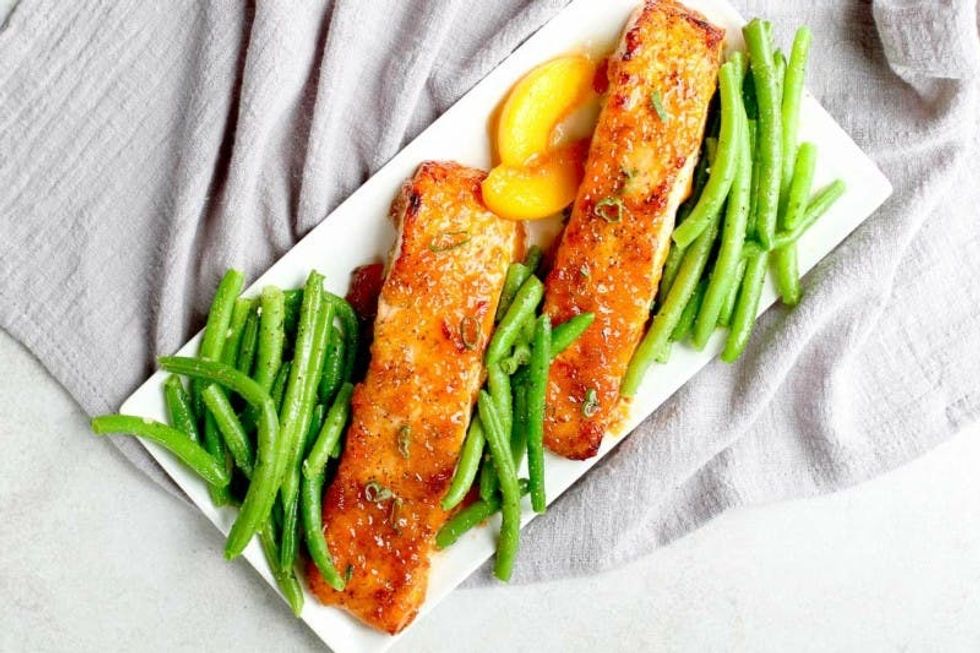 Bourbon, Peach-Glazed Salmon: For a show-stopping salmon recipe, grab a bag of frozen peaches and cook it down with honey for a tasty peach glaze. The contrast between the peaches and chipotle peppers will release fireworks on your taste buds. (via Marisa Moore Nutrition)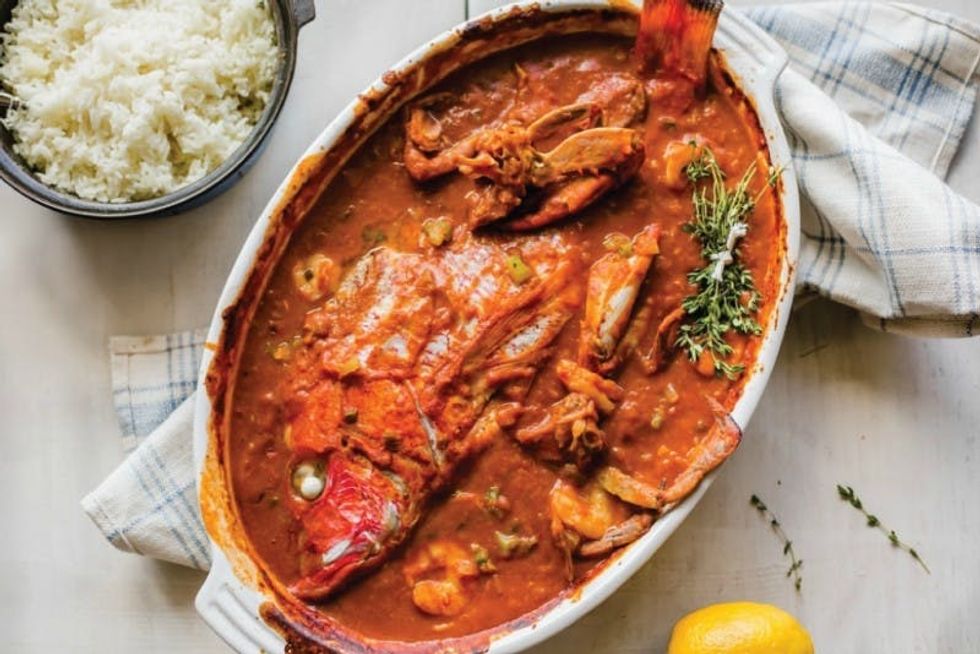 Creole Seafood Courtbouillon: Red snapper, blue crab, and shrimp. Can you really pass on this recipe, pronounced coo-be-yon, that's cooked in stewed tomatoes and a seafood stock with a splash of white wine? (via Beyond The Bayou)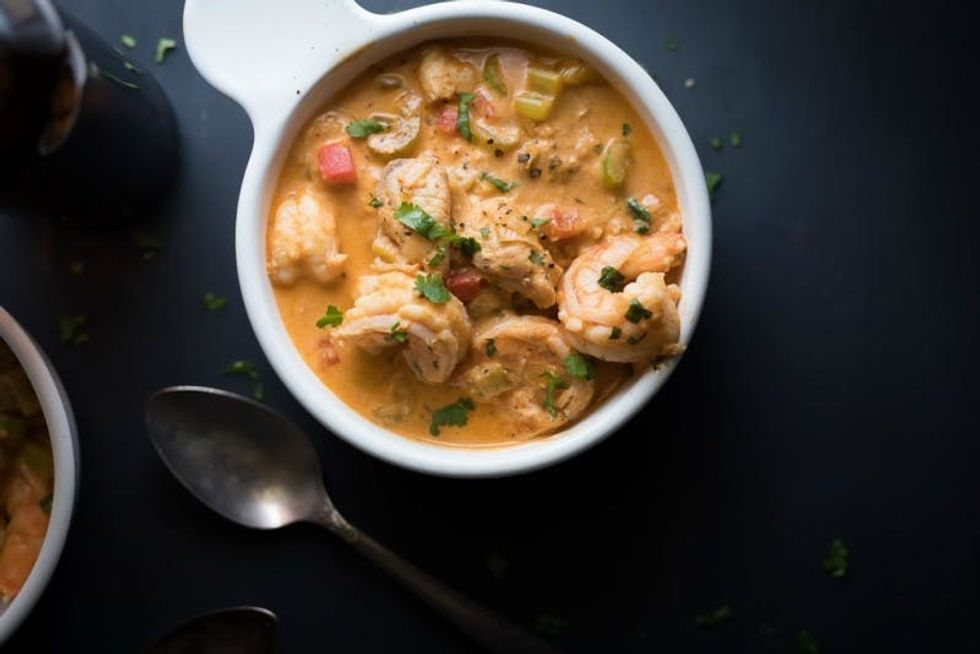 Creamy Seafood Stew: How does fish and shrimp swimming in a pool of coconut cream with leeks, celery, and blackening seasoning sound to you? We think we can all agree — delicious. (via Savory Spicerack)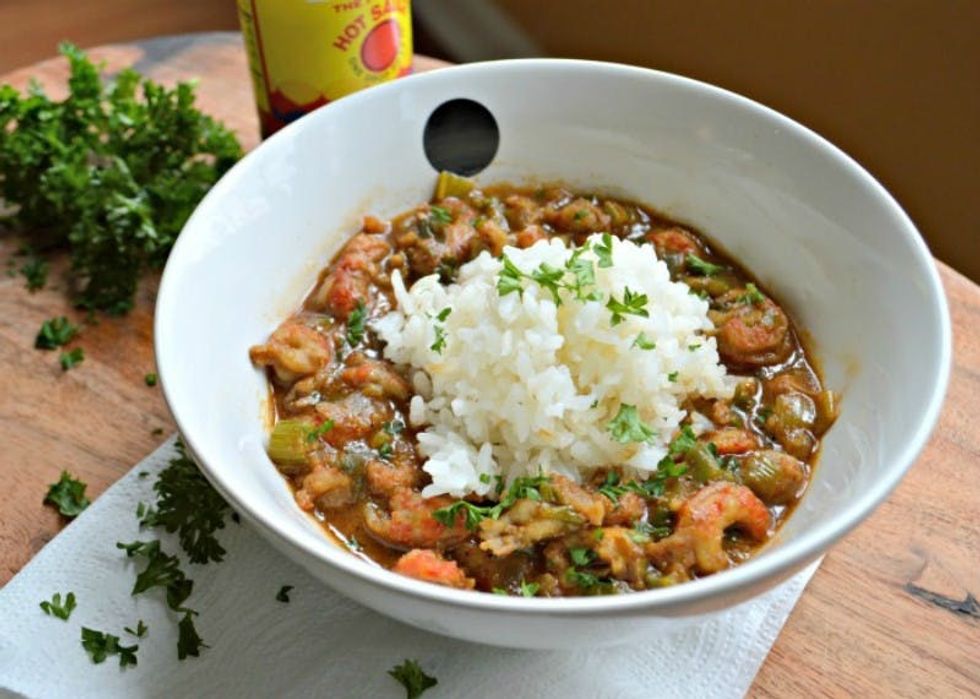 Crawfish Étouffée: Pronounced eh-too-fay, it means "smothered" in French and consists of mouthwatering seafood in a classic Cajun roux. This 30-minute recipe is made with crawfish but feel free to sub with shrimp too. (via High Heels and Good Meals)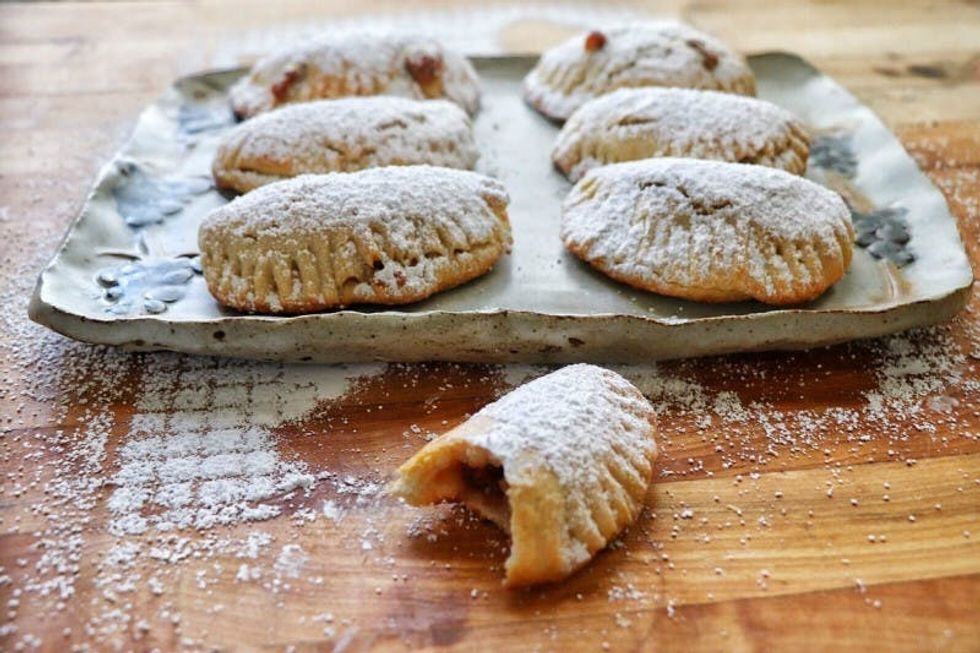 Fried Sweet Potato Hand Pie: You're going to want to bookmark this recipe ASAP. Whatever you do, don't buy into the myth that cinnamon and nutmeg cancel each other out, because this recipe is proof that that's just not true. (via Kenneth Temple)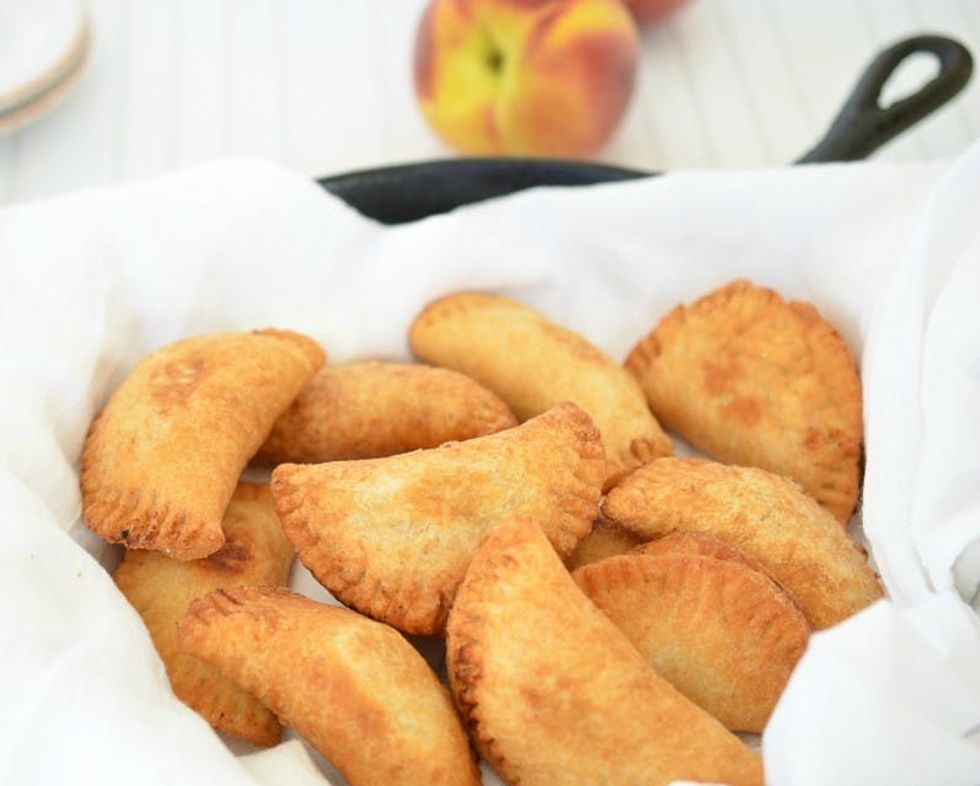 Fried Peach Pies: Grab a couple of peaches and cinnamon to make these crispy, flaky hand pies. They have all the scrumptious flavor you know and love from your favorite aunt's peach pie, just in a smaller size. (via Domestic Dee)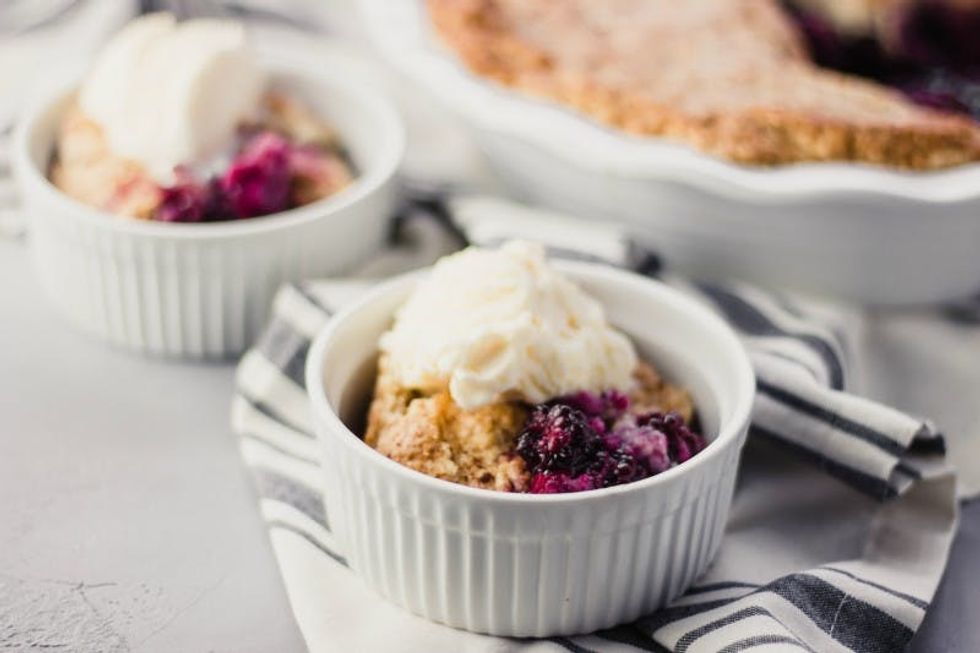 Blackberry Cobbler: Are we the only ones salivating at these beautiful ramekins piled high with homemade crust, sweetened blackberries, and vanilla ice cream? Pro tip: Add some lemon zest to the fruit to intensify the flavors. (via Simply LaKita)
For more recipe inspo, follow us on Pinterest!
This post has been updated from a previous post.
window.REBELMOUSE_LOWEST_TASKS_QUEUE.push(function(){
!function(f,b,e,v,n,t,s) {if(f.fbq)return;n=f.fbq=function(){n.callMethod? n.callMethod.apply(n,arguments):n.queue.push(arguments)}; if(!f._fbq)f._fbq=n;n.push=n;n.loaded=!0;n.version='2.0'; n.queue=[];t=b.createElement(e);t.async=!0; t.src=v;s=b.getElementsByTagName(e)[0]; s.parentNode.insertBefore(t,s)}(window, document,'script', 'https://connect.facebook.net/en_US/fbevents.js'); fbq('init', '377612259624022'); fbq('track', 'PageView');
});
window.REBELMOUSE_LOWEST_TASKS_QUEUE.push(function(){
window.REBELMOUSE_STDLIB.loadExternalScript("https://htlbid.com/v3/brit.co/htlbid.js", function() {
});
});
window.REBELMOUSE_LOWEST_TASKS_QUEUE.push(function(){
window.REBELMOUSE_STDLIB.loadExternalScript("https://s.skimresources.com/js/58005X1352817.skimlinks.js", function() {
});
});
window.REBELMOUSE_LOWEST_TASKS_QUEUE.push(function(){
window.REBELMOUSE_STDLIB.loadExternalScript("https://cdn.sendpulse.com/js/push/6eebe1b62360a111b4210c09860569b6_1.js", function() {
});
});
window.REBELMOUSE_LOWEST_TASKS_QUEUE.push(function(){
var topbannerRendered=false; googletag.cmd.push(function () {
let topBanner=document.getElementById("top_ad_banner");
googletag.pubads().addEventListener('slotRenderEnded', function (evnt) {
let adElement = topBanner.querySelector('.htl-ad > div');
if (evnt.slot.getSlotElementId() === adElement.id && !evnt.isEmpty) {
topBanner.style.display="block" topBanner.style.height = adElement.parentElement.clientHeight + 'px'; // topBanner.nextElementSibling.style.marginTop = adElement.clientHeight + 'px'; if(!topbannerRendered){ topbannerRendered= true; topBanner.classList.add('sticky-banner');
topBanner.classList.remove('non-sticky-banner');
setTimeout(function () { topBanner.classList.remove('sticky-banner'); topBanner.classList.add('non-sticky-banner'); /* topBanner.classList.add('mobile-sticky-banner'); if(window.innerWidth<768){ topBanner.firstChild.innerHTML=""; topBanner.style.height="0"; topBanner.firstChild.innerHTML=`
`;
if(!(topBanner.querySelector("button"))){ topBanner.firstChild.insertAdjacentHTML("beforeend",``);} }*/ //topBanner.nextElementSibling.removeAttribute("style"); }, 6000); } }
}) })
});
window.REBELMOUSE_LOWEST_TASKS_QUEUE.push(function(){
/*if ("true" !== dontAllowSumo) {
var j=document.createElement("script"); var v=document.getElementsByTagName("script")[0]; j.async=1; j.src="https://load.sumo.com/"; j.dataset.sumoSiteId='145a711a31e3a1cef416fe4b4529cf90afd09553df1c12df6a4c69038fb447c8'; j.dataset.sumoPlatform='gtm'; v.parentNode.insertBefore(j,v)
}*/
});
window.REBELMOUSE_LOWEST_TASKS_QUEUE.push(function(){
const ob=document.querySelector('.post-partial .outbrain_holder'); if(!ob){ return; } const partial = document.querySelector('.post-partial .rebellt-item') if(partial){ partial.insertAdjacentElement('afterend', ob) } ob.className="OUTBRAIN"; ob.setAttribute("data-src","https://www.brit.co/black-history-month-potluck-recipes/")
});
window.REBELMOUSE_LOWEST_TASKS_QUEUE.push(function(){
const script = document.createElement("script"); script.src = "https://player.anyclip.com/anyclip-widget/lre-widget/prod/v1/src/lre.js"; script.async = true; script.setAttribute("id", "lre-player-widget"); script.setAttribute("pubname", "britco"); script.setAttribute("widgetname", "0011r00001onCeo_1182"); const holder = document.getElementById("lre-script-holder"); holder.parentElement.insertBefore(script, holder);
});
window.REBELMOUSE_LOWEST_TASKS_QUEUE.push(function(){
window.REBELMOUSE_STDLIB.loadExternalScript("https://widgets.outbrain.com/outbrain.js", function() {
REBELMOUSE_STDLIB.onElementInViewport({ selector: ".outbrain_container:not(.outbrain-processed)", isMatchingNode: function(node) { return node.classList.contains("outbrain_container"); }, onIntersect: function(entry) { const item = entry.target; const obPostUrl = item .querySelector(".scroll-post .widget__headline-text") .getAttribute("href"); item.insertAdjacentHTML( "afterbegin", '
' ); item.classList.add("outbrain-processed"); if (item.querySelector(".outbrain_holder")) { const ob = item.querySelector(".outbrain_holder"); ob.className = "OUTBRAIN"; ob.setAttribute("data-src", obPostUrl); } /* item.querySelector(".scroll-post").insertAdjacentHTML( "afterend", '
' );*/ OBR.extern.researchWidget(); } });
});
});
window.REBELMOUSE_LOWEST_TASKS_QUEUE.push(function(){
let options = { rootMargin: '0px 0px 400px 0px' }
function handleIntersection(entries) { entries.map((entry) => { if (entry.isIntersecting) { processTargetingValues(entry.target) //your call back here with the element that is intersected or in viewport observer.unobserve(entry.target); // if you want to run it only once unobserve it } }); } function createElementChangeListener(selector, callback) { // look for elements that are injected later in the page. const initializedNodes = new Set([]);
document.querySelectorAll(selector).forEach((node) => { callback(node); initializedNodes.add(node); });
const mutationObserver = new MutationObserver(() => { const nodes = document.querySelectorAll(selector); nodes.forEach((node) => { if (!initializedNodes.has(node)) { callback(node); initializedNodes.add(node); } }); });
mutationObserver.observe(document.body, { childList: true, subtree: true, }); } const observer = new IntersectionObserver(handleIntersection,options); createElementChangeListener(".scroll-post .widget",function(item){ //looks for item in the dom even if they are lazy laoded observer.observe(item); // observe item }) function processTargetingValues(widget) { htlbid.cmd.push(function() {
htlbid.setTargeting('path', widget.querySelector(".widget__headline-text").getAttribute('href'));
htlbid.setTargeting('post_id', widget.getAttribute('elid'));
var postData=widget.querySelector("#post-context-"+widget.getAttribute('elid')); postData=JSON.parse(postData.innerText); let section=postData.customDimensions[3]; let tagss=postData.customDimensions[11].split(',') console.log(tagss) htlbid.setTargeting('categories', [section]); htlbid.setTargeting('tag',tagss );
});
setTimeout(function(){htlbid.forceRefresh('stickybanner') console.log("refresh stickybanner") },500) }
}); window.REBELMOUSE_LOWEST_TASKS_QUEUE.push(function(){ window.REBELMOUSE_STDLIB.loadFontFace('Soleil', '//partners.rebelmouse.com/brit/b6a7e4bd-9d8b-4af3-9cfc-ad6aa8eca691.woff2', {selector: '', weight: '700', style: 'normal' }); }); window.REBELMOUSE_LOWEST_TASKS_QUEUE.push(function(){ window.REBELMOUSE_STDLIB.loadFontFace('Filson', 'https://partners.rebelmouse.com/brit/Mostardesign-FilsonSoftRegular.otf', {selector: '', weight: '400', style: 'normal' }); }); window.REBELMOUSE_LOWEST_TASKS_QUEUE.push(function(){ window.REBELMOUSE_STDLIB.loadFontFace('Filson', 'https://partners.rebelmouse.com/brit/Mostardesign-FilsonProBold.otf', {selector: '', weight: '700', style: 'normal' }); }); window.REBELMOUSE_LOWEST_TASKS_QUEUE.push(function(){ window.REBELMOUSE_STDLIB.loadFontFace('Run-Wild', 'https://partners.rebelmouse.com/brit/Run-Wild.otf', {selector: '', weight: '400', style: 'normal' }); });



Source link